How Mr. Klaff became a finalist in a nationwide Jeopardy! Game Show Hosting Contest.
CLICK HERE FOR DEMO TAPE EXCERPT
I always wanted to be on Jeopardy. But always had that reoccurring nightmare where I would be winning by $100, only to have the Final Jeopardy Category be Opera. There had to be another way to get on Jeopardy ...
So I saw this contest on the show where they were searching for a new member of their "Clue Crew" which goes around the world, and reads clues. Not exactly a rocket-scientist job, but it sure would be cool to see Greece for free! The job would kind of be like my interactive US Tour, only I would get to hang out with Alex Trebek. And everyone knows that he's really the life of every party.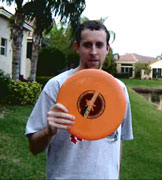 Their requirements were simple ... make a demo tape by reading three clues they provided, including a Frisbee. Anyhow, I sent in a demo tape, and it made it to the Regional Finals. At the audition, I thought I killed ... but it turned out the Jeopardy producers were looking for someone a bit ... well ... more beautiful. In any event, they gave me a cool hat for my troubles, and I went back to teaching the next day. It's too bad -- I was really looking to hang out with some 82 year-old Jeopardy groupies.
CLICK HERE FOR DEMO TAPE EXCERPT